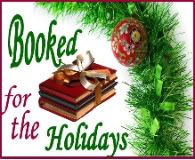 Welcome to the first week of
Booked for the Holidays
! I'm so excited to be doing this, and thrilled to meet those of you who are new to my blog. I'm looking forward to sharing some great books with you over the next few weeks. Some are fiction, and some are non-fiction. All are books that have either made me think, stepped on my toes, encouraged me, been impossible to put down -- or all of the above! I can already tell I've got more books than weeks; there are some great reads out there!
This week's feature is the latest release from one of my very favorite authors.
The Face
by Angela Hunt came out November 1.
If you have never read one of Angela's books, you are in for a treat. She is a brilliant writer who weaves an intricate story that makes me think and ponder long after the last page has been turned. She has written over 100 books (I believe she just wrapped up #112). Her website is aptly named:
Expect the Unexpected
!
There's just one thing I don't like about her books: I find myself in quite a dilemma: torn between wanting to read slowly and savor each page while at the same time eager to devour it quickly to see what happens next! Life is so hard, sometimes!
Here is the book's description from Angie's website:
Born to parents who died shortly after her birth, twenty-year-old genius Sarah Sims has been hidden in a secure CIA facility where she works to help her handlers achieve their goals. Yet her days of anonymity are limited because her aunt has discovered her existence and is determined to lead Sarah out of exile. But before she can leave the only world she's ever known, Sarah needs what most people take for granted . . . a functioning face and the skills to use it. Will she remain in her secluded fortress or summon the courage to follow her heart?
The Face
is a masterful novel. Angie deftly weaves the story through chapters alternating in the voice of Sarah and her Aunt Renee. The multitude of interpersonal relationships are rich and complex. I was fascinated by the multiple levels of research Angie did for this novel. And although I usually try to figure out what the ending will be in a book (and am generally at least partly on target), I was so captivated by the story that I didn't see this one coming. What a beautiful story of hope and love.
Publisher's Weekly gave
The Face
a starred review and named it one of the best books of 2008.
I feel like I know Angie from reading her
blog
each day - she varies from lighthearted and funny to deeply passionate about her topic
du jour
. She also does a monthly feature called Book of the Month when she discusses the process involved in producing one of her books - from the idea through research, writing, editing, and reader reaction, and she even lets us ask her questions!
The Face
was featured this month; click
here
and scroll to the bottom of the page to read the posts from the first week of November.
In addition to the many awards she has earned for her writing, last Christmas her novel
The Note
(another one of my favorites!) was featured as a movie on the Hallmark Channel. (It's now available on
DVD
.) In the spring of this year she became Dr. Angela Hunt as she completed her Doctorate of Biblical Studies in Theology. And one of her "fun" claims to fame was when she appeared on
Live with Regis and Kelly
with one of her beloved mastiffs, who was honored as the 2nd largest canine in America!
I've tarried too long, but there's more one thing I love about Angela Hunt's philopsopy and her thought-provoking writing, so you'll have to come back tomorrow to find that out! Here's a teaser: are her books targeted for Christians or non-believers?
Since this is the very first week, I'm giving away THREE copies of
The Face
. To enter, here's what to do. . .
1) Leave a comment on this post.
2) For additional chances to win, let me know you've posted the
Booked for the Holidays
button on your sidebar and/or linked in a post. I want to help you win, and I also want to spread the word about these great books!
3) I apologize to those of you who may be outside the USA, but I just can't afford the shipping to anywhere but a US address.
4) Entries must be received by this
Thursday, Nov. 20, at 12 NOON CDT
. I'll draw 3 winners that afternoon. If you do not have a blog, please be sure to include your email address.
Happy Reading!
View blog reactions