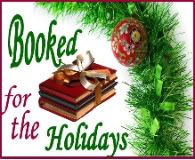 Welcome to the second week of
Booked for the Holidays
! This week I'd like to tell you about a book that another of my favorite fiction authors has written. . . . only this is one of his two non-fiction books. Wielding his pen as skillfully as he does his scalpel, the author of this book, in less than 200 pages, cuts right to the heart of what the body of Christ sorely needs and reminds us that our calling can be summed up in one word.
The Cure
by Harry Kraus, MD is just what we as believers need - "The Divine Rx for the Body of Christ - Life-Changing Love." I rarely mark up books as I read them, but this one made me stop and grab a highlighter. It is filled with truth, encouragement, and yes, conviction.
Right off the bat, Dr. Kraus gives a challenge that I daresay many of us would hesitate to take for fear of the answers we might receive:
Take time this week and ask the people around you if there is any observable feature that sets a person apart and lets you know that he or she is a Christian.
What kind of answer do you suppose you would get? Dr. Kraus asserts that it's generally a laundry list of things we
don't
do that defines us as Christians. It reminds me of the old saying from years ago:
We don't smoke, we don't chew, we don't go with girls who do.
So what
should
define us as Christ-followers?
By this will all men know that you are My disciples, if you love one another. John 13:35
Ouch. Of course, I knew I needed to buckle my seatbelt in the introduction when he said:
We've strayed from the essence that defines us....We're busy. Fruitless. And don't forget that admirable missionary trait, tired.

We are awash with conferences and filled to the brim with discussions about methods....too many congregations are mired in pettiness, arguing over externals, worship styles, and schedules. The heartbeat of the gospel gasps beneath arguments over dress, programs and budgets.

Source: The Cure, pp. 12-13
Now lest you think this is a philosophical book where the author just waxes eloquently about the problem, it is highly practical. Drawing from his expertise as a surgeon and the fact that believers are the body of Christ, Dr. Kraus diagnoses and prescribes treatment for the church in such chapters as
Anorexia
,
Spiritual Insomnia
,
Failure to Thrive
, and
The C-word
, among others. His chapter
Finally Loving Me
was phenomenal, and it alone was worth the price of the book. I highly recommend this book for all levels of church membership - from the "pew-warmers" to the preacher. Read it, take it to heart, and share it.
And although I recognize that I feel an extra affinity for his writings because of my nursing background, you don't have to have medical knowledge to benefit and learn from his writings. Nor do you have to have a stomach of steel. In fact, the parallels between the human body and the church as the body of Christ become more vibrant and awe-inspiring as you read.
Ah, yes, not only is it just what the doctor wrote, I believe
The Cure
is just what the Great Physician ordered!
WHO IS DR. KRAUS?
Harry Kraus MD is a practicing general surgeon currently serving with Africa Inland Mission at Kijabe Hospital in Kenja. Writing about "Grace from the Cutting Edge," he is the author of eight novels and two non-fiction books. He and his wife have three sons.
Dr. Kraus also has a
blog
which "is all about God-talk, an honest inside scoop on Christian struggles, blood, surgery, keeping Jesus big and me small, the insidious and pervasive practice of domesticating Jesus and a picture into my writer's life."
You can read an excerpt of
The Cure
here
.
Now for the giveaway: Leave a comment on this post by 12:00 noon CST Wednesday if you would like to be entered in the drawing for a copy of
The Cure
. Those of you with the button on your sidebar or who link to this post this week get extra entries! I'll post the winner sometime around Thanksgiving.
Happy
Healthy Reading!

View blog reactions