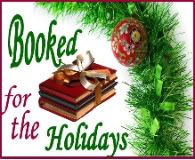 Here are the winners of this year's Booked for the Holidays giveaways! (I used
Random.org
to draw the numbers.)
Giveaway #1 -
Disaster Status
and
Snow Day
: #7 -
Renee Ann
Giveaway #2 -
Faithful
and
Christmas at Harrington's
: #7 -
Barbara H
Giveaway #3 -
Faithful
and
Grace
: #39 -
windycindy
Giveaway #4 -
Angel Song
and
Finding Christmas
: #10 -
Susan D
Giveaway #5 -
You Were Made to Make a Difference
and
All I Have to Give
: #31 -
karenk
Giveaway #6 -
Amy Inspired
and
Love Finds You Under the Mistletoe
: # 6 -
STILLMAGNOLIA
Giveaway #7 -
Licensed for Trouble
and
The Snowflake
: #3 -
Amber S
Giveaway #8 -
City of Tranquil Light
and
I'll Be Home For Christmas
:
#15 -
Cathy
Giveaway #9 -
It's No Secret: Revealing Divine Truths Every Woman Should Know
and
More Pages from the Red Suit Diaries
: #4 -
Diana
Giveaway #10 -
Divine Appointments
and
Once Upon a Christmas
: #13 -
Maureen
Congratulations! It was such fun scrolling through the comments and counting to see who won! As stated previously, winners must email me their mailing address within 24 hours (by 8:30 pm tomorrow) or another winner will be chosen. My goal is to mail all books Friday, Dec. 17. (However, I can't guarantee their arrival before Christmas. It all depends on the US Postal Service!)
Also, if you could please indicate in your email, either the subject or the body, which giveaway # you won, that will help me tremendously! And please leave a comment here so folks will know you've claimed your books!
Thanks so much to everyone for entering, and please "stay tuned" for more giveaways!

View blog reactions