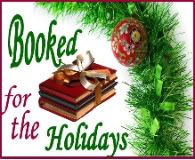 Welcome to the 3rd annual Booked for the Holidays giveaway! I'm starting it a little later than usual this year but hopefully it will be worth the wait, as I'm giving away more books--TWENTY!--than ever. Here's how it will work.
BOOKED FOR THE HOLIDAYS 2010 - RULES


Each day--today through Tuesday, 12/14--I will be giving away a set of two books. The books are only a "set" because I am combining them for this giveaway; one of the daily books will be a "regular" book (there's one non-book giveaway) while the other will be a Christmas-themed book. One day will have a double giveaway, as I have two copies of the book being featured. With the exception of a couple of books which I purchased and read for my own enjoyment, all have been reviewed on my blog during the past year or so and I will link to the review posts.

To enter, just leave a comment on the giveaway post for that day. Double your chances by posting the BFTH button on your sidebar or posting about this giveaway and leaving me a second comment saying you did so. (If you do not have a blog, receive a second entry by posting on FB or emailing a friend and leaving me a comment.) And a third entry is possible by following this blog and leaving another comment telling me you are a follower. (You can either be an existing follower or a new follower.) Just remember, if you enter all 10 days, you need to leave separate comments for each of your entries each day. I'll use the Random Integer Generator, so each comment will receive one entry, and you can have up to three comments on each post.

All entries must be received by 8:00 pm CST Wednesday, December 15. Results will be posted on my blog that night and winners will have 24 hours to email me with their address to claim their books. If not claimed within 24 hours, a new winner will be chosen. My goal is to mail all books on Friday, Dec. 17. Books will be mailed either First Class or Media Mail, whichever is cheaper. Mocha with Linda is not responsible for lost or damaged books.

Ten separate winners will be announced; duplicate wins will only be allowed if less than ten people participate. (If less than ten participate, I may quit doing this! LOL)

Each of the books being given away are either brand-new or gently read and in "as new" condition. Books which I reviewed have been provided by the publishers.
I hope that all makes sense! Have fun and good luck!
AND NOW FOR THE FIRST GIVEAWAY!
Giveaway #1
Disaster Status by Candace Calvert - This is the second book in the Mercy Hospital series. I've had the pleasure of meeting and interviewing Candace, and she is a delight, as are her books! See my review here.
Snow Day by Billy Coffee - I reviewed this charming book here.
Come back tomorrow for Booked for the Holidays, Day 2!

View blog reactions