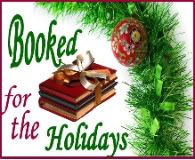 All good things must come to an end, or so they say, and while it has been a blast, my checkbook says it's time to end
Booked for the Holidays
! I hope you've had as much fun as I have! I thought it would be fun to go out with a bang, so I have a double giveaway this week -- one today and one tomorrow!
Like bookends on a shelf, I'm ending as I began: featuring one of my absolute favorite authors, Nancy Rue, with her latest book.
Nancy has just released the second book in the Sullivan Crisp Series, which she writes in collaboration with Stephen Arterburn, who provides the counseling background for Sullivan Crisp (Sully). The first book,
Healing Stones
, completely blew me away. It was one of the first books I posted about
way back in January
.
Now
Healing Waters
has come out in just the past week, and from the first sentence, I was hooked. And apparently, I am not the only one, because it has been chosen as the 2009 Women of Faith Novel of the Year!
Here's the summary from Nancy's website:
Overweight, introverted Lucia Coffey has always stood outside the spotlight of her Christian celebrity sister Sonia Cabot, but when Sonia is involved in a devastating accident, Lucia is thrust into that limelight – where she makes some shocking, life-changing discoveries about her sister, her marriage, and herself. Dr. Sullivan Crisp is her guide as he, too, continues his journey of discovery. Their soul-wrenching examination of faith and suffering exacts a great sacrifice from Lucia and a no-turning-back decision for Sully.
You can read the first chapter
here
.
If you are not familiar with Nancy, let me tell you: she is a delight! I've had the privilege of meeting her personally and spending some time with her on several occasions, and she is as genuine and sweet as they come. I have been especially excited lately because she has updated her
website
and begun
blogging
on a regular basis. And Oh.My.Goodness. Just as she does in her books, she cuts straight to the heart of the matter on her blog and makes one think. She's just finishing up a discussion on the Seven Deadly Sins. Ouch!
Nancy is an adept author who uses a well-written story to get a message across. That may remind you of the first author I featured,
Angela Hunt
. Well, though they live several states away from each other, they are good friends and together they present a writer's workshop each year, aptly named Nangie U!
Today, I am giving away a copy of
Healing Waters
to one of you! Just leave a comment here to be entered. And as usual, extra chances may be had by posting about the giveaway and/or by posting the button. Deadline for comments for the giveaway is Wednesday (12/17) at noon CST. Sorry, Continental US Residents only, please.
Please come back tomorrow for another giveaway and to find out why my girl is crazy about Nancy Rue!

View blog reactions