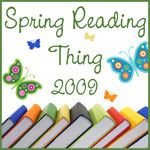 It's time for the Spring Reading Challenge, hosted by Katrina at
Callapidder Days
. This is always a fun time of intentional reading. One of my favorite things to do is to curl up with a good book. (I'm sure that comes as quite a shock!)
I've got a bit of a stack growing, and there are several books releasing over the next few days and weeks that I am eagerly awaiting. And I'm quite sure my list will grow after my little trip to the Christian Book Expo this weekend! (Maybe yours will, too!)
But for now, here's my list:
The Inheritance
by Tamera Alexander - a stand-alone Women of Faith Novel
Beyond this Moment
by Tamera Alexander - releases April 1
Yesterday's Embers
by Deborah Raney - #3 in her Clayburn Novels series; releases Tuesday (3/24)
A Killing Frost
by Hannah Alexander - start of a new series a great husband/wife writing team (LOL - no relation to Tamera; Hannah Alexander is a pen name!)
Finally Alive
by John Piper
Salty Like Blood: A Novel
by Harry Kraus, MD - available next Tuesday (3/24)
Plain Pursuit
by Beth Wiseman - the second novel from a gifted author; releases April 28
Journey
by Angela Hunt - final novel in the reprinted series about the family of Joseph; releases April 1
Talking to the Dead: A Novel
by Bonnie Grove - releases May 1
Ambushed by Grace: Help & Hope on the Caregiving Journey
by Shelly Beach
The Note II; Taking a Chance on Love
by Angela Hunt - releases May 1; when Angie's novel
The Note
was made into a Hallmark movie, it was such a hit that they made a sequel and Angie was asked to write the novelization.
Okay, I better stop! Come along and join us! It's always fun to see what others are reading!
If you are new to the Spring Reading Thing, you can read about the general idea
HERE
and find additional guidelines for participating
HERE
. And some additional info about prizes and other miscellany is
here
.
Thanks to Katrina for hosting this!
And Happy Reading!!

View blog reactions