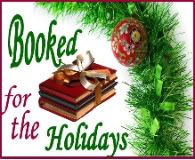 Welcome to Booked for the Holidays Giveaway #5 (and Flashback Friday, which is just below)! Here is today's book duo:
You Were Made to Make a Difference - Jenna Lucado Bishop teams up with her dad, Max Lucado, in this excellent book for teen girls. Read my review here.
All I Have to Give by Melody Carlson - Published by Revell in July, 2008, this book is a charming story. I don't remember where I picked it up; it apparently wasn't one for review, but I'm so glad I read it. Here's the summary from the inside flap:

What would you do to make Christmas special? Anna wants this to be the best Christmas ever, and she's willing to do whatever it takes to accomplish that. But what happens when everything and everyone around her seems to be falling apart? Is this destined to be the worst Christmas ever? Fortunately for her, as often happens at this time of year, there are miracles in store. Just when Anna's happy holidays look hopeless, the magic of Christmas works its way into her life. And what she unwraps for Christmas will surprise everyone.
Remember, you can leave up to 3 comments for 3 chances to win - a general comment, a comment indicating you are a follower, and a comment telling me the BFTH button is posted in your sidebar. You can read the rules for entering and claiming prizes
here
.
And now for the Flashback Friday prompt. . . .
I loved reading everyone's decorating memories last week! Today we look at another aspect of the Christmases of our childhood.
What was Christmas like at school when you were growing up? Were there parties, programs or other activities? Did students exchange gifts? Did you have a part in a Christmas play? Did teachers decorate their rooms? Was it permissible to refer to the holiday as Christmas? If you attended church, what special things did your church do? Were you or your family involved in any of those programs, cantatas, or activities? Have you ever gone caroling? Did your parents ever host Christmas parties?
Share your Christmas memories on your blog tomorrow and come back here to link up. . .and to see the next giveaway!

View blog reactions