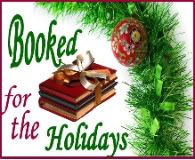 Today is the last day for Booked for the Holidays. I hope you have enjoyed it! (Or maybe you'll enjoy it if you win?!) Remember: You have until tomorrow (Wednesday) at 8:00 pm CST to leave your comments on any of the giveaways to be in the drawings.
Here is the final giveaway duo:
Divine Appointments by Charlene Baumbich - Snowglobes aren't just for Christmas! Read my review of this book here.
Once Upon a Christmas by Lauraine Snelling & Lenora Worth - Two festive, romantic novellas by award-winning authors:

The Most Wonderful Time of the Year by Lauraine Snelling - Romance blooms between Blythe Stensrude and Thane Davidson after their dogs tangle leashes in the park--until Thane becomes guardian to his three-year-old niece. Blythe doesn't think she's mother material, but how can she refuse Thane's request to give a neglected little girl the best Christmas ever?

'Twas the Week Before Christmas by Lenora Worth - Upon arrival at her grandmother's Louisiana plantation for the holidays, socialite Elise Melancon is confronted with a shocking request--her grandmother wants her to "reform" a handsome man so he can date another woman! Perhaps Elise will discover that life's greatest gifts don't always come in a box.
You can read the rules for entering and claiming prizes
here
.

View blog reactions