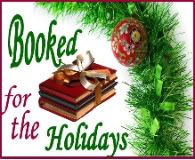 It's another double meme day! For those of you visiting from
Then Sings My Soul Saturday
, I am in the midst of my annual giveaway, Booked for the Holidays. I'm giving away two books each day, one of which is Christmas-themed, through Tuesday. All of the entries will close at the same time, so you can certainly go back and enter the earlier giveaways, which began Monday. You can read the rules for entering and claiming prizes
here
.
Here is today's giveaway duo:
Licensed for Trouble by Susan May Warren - Such a fun read. My review is here.
The Snowflake by Jamie Carie - Grab a warm mug to sip as you read this book set in Alaska; my review is here.
The first time I heard this song a couple of years ago, I was absolutely captivated. It isn't Christmas until I hear this song! (And I love that KSBJ in Houston plays this song year-round!)
Have a wonderful weekend!

View blog reactions