Happy Monday to you! Can you believe it's less than two weeks until Christmas?!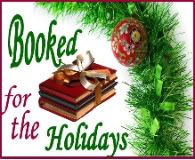 It's No Secret: Revealing Divine Truths Every Woman Should Know by Rachel Olsen - Read my review here.
More Pages from the Red Suit Diaries by Ed Butchart - This is a delightful book, and have you ever seen anyone look more like Santa?! From the inside flap of the book jacket: Here's a gift from Santa for anyone who is a child at heart at Christmas! Ed Butchart is Santa Claus--and in his first book, The Red Suit Diaries, he made fans out of readers. His knack for celebrating Christmas all year and in all ways continues to attract readers in his new book, More Pages from the Red Suit Diaries. Anyone who loves Christmas will relish reading Butchart's stories about hearing the heartfelt wishes of children. And there's much more as Santa tells all: introductions to the real-life "elves" in Santa's world, stories of entire families' lives changed by Santa's presence, and the blessings of the valuable work he does in his workshop, refurbishing wheelchairs for thousands of disabled children and adults in need. This Santa is so much more than a jolly man in a funny suit. He's a living, breathing testament to the "faith, hope, and love" for which Christians should be known. Readers of this book will keep the giving spirit of Christmas--and of faith--in their hearts all year long.

You can read the rules for entering and claiming prizes
here
.
Have a great Monday!

View blog reactions