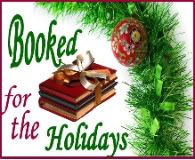 Welcome to Booked for the Holidays Giveaway #6! Today's book duo is:
Amy Inspired by Bethany Pierce - My review is here.
Love Finds You Under the Mistletoe by Irene Brand & Anita Higman - This delightful book contains two related stories, one of which is historical and the other, contemporary. My featured review is here.
Remember, you can leave up to 3 comments for 3 chances to win: an "enter me" comment, an "I'm a follower" comment, and an "I put the BFTH button on my sidebar (or FB for those who don't have blogs).
You can read the rules for entering and claiming prizes
here
.
And now to Flashback Friday!
What was Christmas like at school when you were growing up? Were there parties, programs or other activities? Did students exchange gifts? Did you have a part in a Christmas play? Did teachers decorate their rooms? Was it permissible to refer to the holiday as Christmas? If you attended church, what special things did your church do? Were you or your family involved in any of those programs, cantatas, or activities? Have you ever gone caroling? Did your parents ever host Christmas parties?
I remember that we always had a party on the last day before Christmas break when I was in elementary school but I don't remember much about those. I think one reason is because it wasn't such a big deal as school parties can be today. I don't remember making any crafts. It does seem like we all brought a present for a person of our gender and there was some type of system to exchange those. The common gift was the Lifesavers Book of Candy. I rarely had candy, and I thought it was so cool to get all those rolls in the "book"!
I do remember that we would often have door contests at school. The teachers and students would decorate the classroom door by covering it with that colored "door foil" and then adding other decorations. It seems like there might have been a contest. It also seems like there was a choir program at school.
Christianity wasn't politically incorrect back then, and we definitely called it Christmas when we were at school. It seems like it was kinda the beginning of stores using XMas to save room in ads and on signs, so it was beginning. I remember that George Beverly Shea Christmas album I mentioned last week had a song called "Put Christ Back Into Christmas." I can still remember the first part of the song:
Don't wish me "Merry Xmas"
Or "Happy Holiday"
Put Christ back into Christmas
On this blessed holy day.
At church there was always a choir cantata, as they were called back then. Neither of my parents sang in the choir so we weren't involved in that. After I graduated from college I was in my church choir for about ten years and I loved being part of the Christmas music.
I always loved when we would start singing Christmas carols during the church service. I remember my dad being aggravated if we sang anything that
wasn't
a Christmas carol between Thanksgiving and Christmas. That's another passion I inherited from my dad!
I do remember one neat thing our church did when I was in GA's (the mission organization for girls). We had a Lottie Moon Mailbox, and the members would bring their Christmas cards that they were sending to members of the church. The amount they would have paid for the stamps was paid to the Lottie Moon Mailbox. That money went into the Lottie Moon Christmas offering. (That is the annual international missions offering that Southern Baptists give at Christmas.) We then sorted all the cards, and after church folks would stop by the table and pick up their "mail." It was lots of fun to do and the church members enjoyed it as well.
I only remember one Christmas party that my folks helped host and that was when my older siblings were in the youth department. Our house was the salad stop for a Progressive Dinner. Those were really common when I was little - appetizer at one house, salad at another, main course at a third, and dessert at the fourth and final house.
I can't wait to read your flashback, although it may take me awhile to visit everyone. Days are a little crazy this time of year! Be sure to link up!

View blog reactions