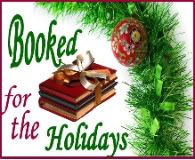 Welcome to Booked for the Holidays Giveaway #4! Today's giveaway books are:
Giveaway #4
Angel Song by Sheila Walsh and Kathryn Cushman
. I reviewed this Women of Faith 2010 Novel of the Year here.
Finding Christmas by James C. Schaap, which I featured here.
Get three chances to win by leaving three comments:
Comment #1 - comment on this giveaway
Comment #2 - tell me you are a follower of this blog
Comment #3 - post the BFTH button on your sidebar
You can read the rules for entering and claiming prizes
here
.
And now for Wednesday Hodgepodge, hosted by Joyce
From This Side of the Pond
.
1. Have you ever been on a real sleigh ride? How about the warm weather version - a carriage ride?
No and no. I've always wanted to do that. Either or both.
2. What's your policy on 'chain mail'...you know, the emails you receive that are often some sort of poem/blessing/good wish that ask you to send it on to 10 or 12 friends? Do you delete without opening, read and trash, read and trash and then worry you won't be blessed/lucky/protected? Do you delete the sender from your contacts or just go ahead and send the love onward?
They annoy me. I generally skim them 'cause I don't realize it's one of "those" emails until I get to the end.
3. Who is your favorite character in any of the Christmas movies and why?
One of my favorite Christmas movies is
Samantha: An American Girl Holiday
. I love Samantha's character and how much she loves her friends and wants to help them. (And I love Anna Sophia Robb!)
and then of course, there's Linus in
A Charlie Brown Christmas
4. Share a favorite quote.
Cheap grace is the preaching of forgiveness without requiring repentance. . .
(Dietrich Bonhoeffer)
and this one from the most recent online issue of Christianity Today:
Preoccupied with self and distracted by affluence, many Christians try to confine the gospel to a superior form of therapy; they fail to see it as a cosmic plan of redemption in which they, as fallen creatures, are directly involved.
(Charles Colson)
5. What's your favorite holiday scent?
Aromatique's The Smell of Christmas, which they describe as "the delightful aromas of citrus and spice with naturally festive botanicals... red berries, evergreen sprigs, nuts, pinecones and cinnamon sticks"
I love the potpourri and the candles!
6. Does the Christmas season stress you out? In what way?
A little bit. Too many things to do and not enough time to do them. Especially since I got a notice to report for jury duty next Monday.
7. What's the best thing about your life right now?
My family.
8. Insert your own random thought here.>
I love this song from Avalon - a great reminder for busy moms!

View blog reactions