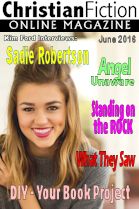 There's a new online magazine in cyber-town! And I can't wait to curl up and read it in depth.
Presented by Christian Fiction Blog Alliance (CFBA), it is chock-full of all sorts of articles aimed at readers, authors, and would-be authors. Articles written by some of the experts in their fields, including authors, publishers, agents, and reviewers. Tips for book clubs, publicity pointers, marketing strategies -- even a couple of short stories -- are included, as well as a devotional.
And did I mention interviews? This month featured interview is with Robert Liparulo, author of such thrillers as
Comes a Horseman
,
GERM
, and
Deadfall
, as well as the Dreamhouse Kings series with its newly released
House of Dark Shadows
and
Watcher in the Woods
.
There's also a column for teens. Oh, and like any great online magazine, there are CONTESTS to win some great BOOKS!
And ahem, I just happened to stumble across the feature Best CFBA Blog Reviews. I have been having a blast reading and reviewing books for CFBA. I was thrilled to even have a review labeled as a finalist, and completely flabbergasted to be honored as the debut blog tour review winner.
So check out Christian Fiction Online Magazine, link to the magazine's cover on your blog, and spread the word. Happy Reading!

View blog reactions