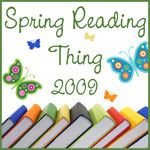 With today's official arrival of summer (according to the calendar, although our 102 temperature yesterday was certainly not spring-like!), the Spring Reading Thing 2009 hosted by Katrina at
Callapidder Days
has come to a close. This is always a fun time to set some reading goals and then look back and see what was read over the past 3 months.
In some ways, I didn't do as well as I would have liked this time. I certainly read - that's not the problem. But I didn't get to a few of the books on the list that I made at the beginning, and being the OCD type that I am, that bugs me! I know I just need to get over it.
I also discovered that I had not posted reviews for several books which I thought I had. Some publishers give specific date ranges for reviews and others don't, and I need to come up with a better system for keeping up with the reviews that are not specified. And having my sister for several months this spring (which I didn't talk about really on my blog but which was time-consuming and a bit stressful) and dealing with the bounty I received at the Expo along with all the normal spring activities as school began to wind down, has made it a little harder to keep my head above water.
I know the world will not fall off its axis if I don't post a review, but I do feel a sense of responsibility to follow up on the books I receive. I certainly don't want to misuse the publishers' trust in supplying the books.
Being an over-achieving perfectionist has nothing to do with it!
Anyway, enough philosophical rambling. Here's how I did with my original list:
The Inheritance
by Tamera Alexander - loved it;
my review is here
. I thought I reviewed it!
Beyond this Moment
by Tamera Alexander - great book; review is
here
.
Yesterday's Embers
by Deborah Raney - loved it; arggh - just realized I never posted my review and interview with Deborah Raney!
A Killing Frost
by Hannah Alexander - another great medical mystery
Finally Alive
by John Piper - this one is still in the stack.
Salty Like Blood: A Novel
by Harry Kraus, MD - another incredible book by one of my favorite authors; again, I've been wanting to do an interview with him and post the review.
Plain Pursuit
by Beth Wiseman - enjoyed this one; read my author interview
here
.
Journey
by Angela Hunt - final novel in the reprinted series about the family of Joseph; fascinating story
Talking to the Dead: A Novel
by Bonnie Grove - this one was recommended to me and I never managed to pick it up
Ambushed by Grace: Help & Hope on the Caregiving Journey
by Shelly Beach - sigh - it's still in my stack.
The Note II; Taking a Chance on Love
by Angela Hunt - read it and loved it, as expected with Angie's books.
Listed below are the rest of the books I read, most of them books that were sent to me to be reviewed. The ones not linked to reviews are ones I just picked up and read because they caught my eye.
Face of Betrayal
by Lis Wiehl
A Flickering Light
by Jane Kirkpatrick
Enduring Justice
by Amy Wallace
According to their Deeds
by Paul Robertson
Blue Heart Blessed
by Susan Meissner - this is a beautiful, tender book. Susan has quickly become one of my favorite authors.
Nothing but Trouble
by Susan May Warren
Ulterior Motives
by Mark Andrew Olsen
Beloved Counterfeit
by Kathleen Y'Barbo
Taking Tuscany
by Renee Riva
A Passion Denied
by Julie Lessman
The Justice Game
by Randy Singer - review still to come
Finding Faith in a Skeptical World
by Chet Galeska
Dear Mom
by Melody Carlson
Deadlock
by Robert Liparulo - I still owe a review on this one
A Promise to Believe In
by Tracie Peterson
A Love to Last Forever
by Tracie Peterson
A Dream to Call My Own
by Tracie Peterson - review still to come
A Claim of Her Own
by Stephanie Grace Whitson
Stealing Home
by Allison Pittman
Saints in Limbo
by River Jordan
Shadows of Lancaster County
by Mindy Starns Clark - a great & suspenseful book!
Bride of Honor
by Ruth Axtell Morren - I always enjoy her books and this is no exception
Critical Care
by Candace Calvert
Sisterchicks in Wooden Shoes
by Robin Jones Gunn
A Vote of Confidence
by Robin Lee Hatcher
Along Came a Cowboy
by Christine Lynxwiler
Reluctant Cowgirl
by Christine Lynxwiler
The Hole in Our Gospel
by Richard Stearns
Night Watchman
by Mark Mynheir
Jillian Dare
by Melanie Jeschke
The Disappearance of God
by Albert Mohler
Above All Things
by Deborah Raney
Cloud of Suspicion
by Patricia Davids
Her Small-Town Hero
by Arlene James
His Small-Town Girl
by Arlene James
Protecting Her Child
by Debby Giusti
Deadly Competition
by Roxanne Rustand
Shadows on the River
by Linda Hall
Another Hour to Kill
by Anita Higman
Held Hostage
by Ken Cooper
Words Unspoken
by Elizabeth Musser
Her Last Chance
by Terri Reed
Tour de Force
by Elizabeth White - review still to come
A Gathering of Finches
by Jane Kirkpatrick - review to come
Love's Pursuit
by Siri Mitchell - review to come
The Kidnapping of Kenzie Thorn
by Liz Johnson - review to come
The Preacher's Wife
by Cheryl St. John
Sometimes a Light Surprises
by Jamie Langston Turner
How Sweet It Is
by Alice J. Wisler
A Bride in the Bargain
by Deeanne Gist - still need to post review and interview
The Veil
by Diane Noble - review to come
So, the grand total is 58 books, I think. And I wonder why we need another bookcase!
Check out what books others have read over at Callapidder Days
Wrap-It-Up
! And Katrina has a
special site
set up where the participants have shared some of their reviews of books they read. Right now there are over 400 reviews - surely a book you are wondering about is listed!
Books are not made for furniture,
but there is nothing else that so beautifully furnishes a house.
~ Henry Ward Beecher ~
Happy Reading - and home furnishing!

View blog reactions